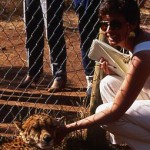 I have been a full-time freelance writer since 1987, working for trade and craft publications, and producing educational and training material for adults as well as high school students. I have edited fiction and non-fiction book-length works for the Oregon Historical Society Press, the Portland Japanese Garden, Northwest Alpacas, and award-winning urban fantasy writer, Devon Monk, among others. I review books for Lapidary Journal Jewelry Artist magazine, Gems & Gemology, and Blue Ink Review. I write fiction under the name Liz Hartley.
For a number of years, my family owned a small jewelry manufacturing and supply business. During that time I earned both a Graduate Gemologist (GG) diploma and a Fellow of the Gemmological Association of Great Britain (FGA) diploma. I also have a BFA in painting from Marylhurst University. I have been an instructor at the Gemological Institute of America (GIA) as well as part of their Graduate Gemologist and Jewelry Manufacturing Arts Graduate Jeweler course revision teams.
As a result of this background, I've written frequently for the jewelry industry on topics such as gemstones and precious metals; mining history; jewelry manufacturing, tools and supplies; art and studio jewelry; and small business. My work has appeared in many jewelry industry and art jewelry-specific publications, including Lapidary Journal Jewelry Artist, MJSA Journal, JCK, Art Jewelry, Professional Jeweler, and Gems & Gemology. My background is also the reason my novels revolve around gemstones and jewelry. I don't make jewelry myself; my brother, John, an exceptional jeweler, took the torch out of my hand many years ago in order to prevent a conflagration the size of the Chicago fire. However, I have a deep and awestruck appreciation for those who do.
I am fascinated with the physical and biological sciences and wildlife. In fact, three of my four young adult non-fiction books were science related: The Greenhouse Effect; Death Trap: the Story of the La Brea Tar Pits; and Built for Speed: the Extraordinary and Enigmatic Cheetah. I've also written about light theory, earth evolution, singing dunes, gorillas in zoos, and Sumatran rhinos. I was a docent for five years at the Los Angeles Zoo.
I also accept custom assignments for trade, association and educational publishers. For example, I've written special sections for JCK magazine and the Willamette University Law School catalog; newsletters for the Indo-Argyle Diamond Council (Modern Jeweler/Cygnus); Chiropractic Physicians, P.C.; and high school textbook sidebars and ancillary materials for Glencoe McGraw-Hill.
I love to travel, and have written about my trips to Brazil, Namibia, South Africa, Greece, Istanbul, and London. I lived for 18 months in Kyoto, Japan, where I became a crazed sumo fan and studied the art of Japanese archery, kyūdō.
Although I live in Oregon, contrary to Northwest custom I drink tea, not coffee. When not working, I like to spend time in the studio painting or making altered books and artists' books. I may also be found in the yard, trying to bring order out of chaos, or on the front porch swing planning the next project or simply reading.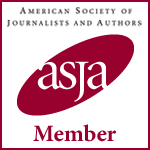 Member of the American Society of Journalists and Authors (ASJA) since 1995.
"We write what you read."