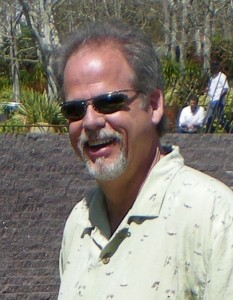 My brother, John Walton Thompson II (b. August 6, 1954), passed away on September 14, 2016. He was 62. He would have hated that I have revealed both his middle name and the "II," the "two-th," after his name. He hated the Walton, for reasons obvious to anyone old enough to remember the television program "The Waltons" and "John-boy Walton." Our family was sworn to never reveal his middle name–an old family one foisted on my father and my brother by our Grandmother–to his friends. (Sorry bro, but if you'd wanted to keep these secrets, you should have stuck around.) It was ironic that, after 9/11, "John Thompson" became a suspected terrorist name, and when John wanted to fly, he found it easier to use "J. Walton Thompson."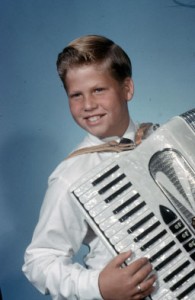 He would have hated the accordion picture, too, but like I said, bro, if you wanted to object…
A favorite story from when John was young: He started taking judo lessons. A friend of our father was a black belt, and John—who was Johnny then—was as impressed as a 7-year-old could be. After a lesson or two, John was describing—to an older, larger friend across the street–the judo throw where you grab an onrushing opponent by the shirt, fall backward, and toss your opponent over your head. The friend scoffed. John offered to show him. Our dad, who was watching all this, foresaw disaster. John's friend charged. Not knowing it takes a lot of practice to master this maneuver, John deftly grabbed his friend, dropped and tossed him across the yard. "See? Nothing to it," John told him.
John was well known in Laguna Beach, California, as a jeweler of extraordinary skill with a commitment to his craft. Although I'd always known John was good at what he did, I was still surprised to hear two jewelers who themselves are masters, praise John as being one of the best. John began learning his skills at our store in Costa Mesa, Five M Gems, from another fine craftsman, Jim Grahl. He quickly gained mastery and honed his abilities over 45 years at the bench. For the last 35-plus years, he worked with Dan Miller, of Dan Miller Jewelry, on Ocean Boulevard in Laguna. Hundreds of jewelry collectors treasure the work created by these two exceptional designers and craftsmen.
There was very little John could not do with gold and a torch. He once removed the tiny cogs and wheels from an antique ladies wristwatch and built a sculpture no more than one-and-a-half inch high by soldering the pieces together edge to edge. He was a very thorough and patient teacher, though not all his students were successful. He once tried to teach me how to solder. After everything was fluxed and ready to go, I put the torch to the metal. The solder refused to flow. I was so focused, I didn't hear John saying quietly, calmly, behind me, "Get off it. Get off it," until he finally said, more forcefully, "Get off it! It's melting." Oh. My last attempt at soldering.
Less well known was John's passion as an art collector. He began collecting while still in his teens, and was completely self-taught. While he admired art from across the ages, he was most influenced in his own work by Art Deco, a style he loved.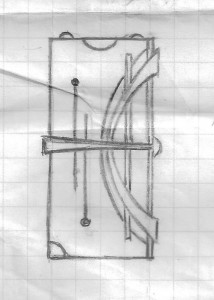 John's overriding passion, however, was his son, Saxon, 30, to whom he was devoted. No one who met John ever doubted his love for, and his pride in, his son, now studying for his masters in Occupational Therapy. Though I don't think John ever envisioned himself as a father, from the beginning, he took to his responsibility toward Saxon wholeheartedly. When Saxon was born, I believe he had moisture on his lungs. The doctors snatched him from the birthing room, where John was present, to rush him to intensive care. The doctor was surprised to find John hard on his heels. "Where are you going?" he asked my brother. John pointed at Saxon. "Where he goes, I go," John told him.
As I said, John hated his name all his life. When he met a friend during his teens named Saxon, he promised that if he ever had a son, Saxon would be his name. And so it was.
John was an eloquent story-teller, often paralyzing his audience with laughter. Friends, family and clients enjoyed his bright, quick mind and his often sharp (and often dark) sense of humor. After our mother died, John came to Oregon to help me begin to clean out her house and get things ready for an estate sale, a difficult task. He was cleaning out drawers and cupboards in the kitchen, while I was pricing things and setting them on the table. He came to me at one point holding an object in his hand. "What the hell is this?" he asked. I stared at it for a moment, clueless. Then John said drily, "Gift with purchase?" I started to laugh, then he started to laugh, the first time since our mom had had her stroke. It was the moment our healing process began.
John did not suffer fools gladly, as fools quickly discovered. But often his gruffness and acerbic wit hid a heart of marshmallow. He was not a joiner and had only a few close friends, most of whom he'd known all his life. John had the "gift of gab" and most people who met him liked him immediately. However, John was an intensely private person, whom not even his family or close friends knew really well.
John was divorced from Joanne Broe Burkhardt. He was pre-deceased by his parents, John Walton Thompson and Elaine Antoinette Thompson. He is survived by his aunt, Edna Joan Beatty, his sister (me), Sharon Elaine Thompson, his son, Saxon Rayth Thompson, and a number of cousins (Linda Gugler Walsh Lapinski, Gary Gugler, Barbara Gugler Asplin, Linda Barnard Tamasiunas, Diane Barnard Reher, Michael Clare, and Mark, Paul, and David Bugajski) and their children. His passing leaves a gaping hole in many lives. He will be missed.