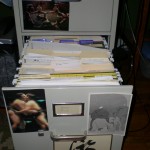 Most of us have a drawer–a trunk, a closet, a garage, a basement–filled with things we don't use but can't bear to part with. Some of it's useful, some of it's not. Some of it's interesting, if only to us. A lot of it is sentimental. But we keep it because somehow it's become part of our lives. It says something about who we are and what's important to us.
Writers not only have the usual stash of tangible stuff, most also have files and notebooks filled with intangibles—fragments of story ideas, notes about experiences, op-ed pieces on topics they're passionate about–that they haven't sold or maybe even tried to sell, but that haunt the attic of the mind.
I'm no different.
I began writing about jewelry and gemstones because I'm a gemologist and at one time my family owned a jewelry manufacturing and supply store. I began writing about wildlife while I was a docent at the Los Angeles Zoo. A trip to Africa provided the inspiration to write about cheetahs, the most elegant and aloof of the great cats. In the 20+ years that I've written for Lapidary Journal/Jewelry Artist magazine, I've been fortunate that editor-in-chief Merle White has let me follow my interests in geology and paleontology, in art jewelry and mining history. She has given me assignments like the one that led to writing about the acrimonious struggle to control access to the fossilized coral in Tampa Bay. She sent me to the gem mining area of Brazil in the company of avid gem collectors.
But despite this variety, I still have an attic full of idea scraps, stories, and life lessons, unwritten ghosts that may not fit a larger format but still hanker for a chance to walk around in the light.
The Journal is where I'm going to set them free. Some may fly, some may dance, some may fall to earth with a thud. But from here on out, they're on their own. I hope you enjoy some of them.